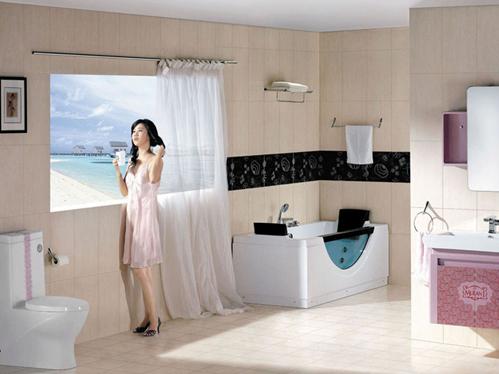 The sanitary ware industry is critical in market breakthroughs, and it is necessary to develop small towns in sanitary ware. The continuous development of sanitary ware companies, China's three or four-tier market has become the focus of attention of enterprises, tile to the countryside has become a hot topic, companies have taken action to enter the rural market. In this situation, we must first understand the characteristics of the three or four markets in order to do a good job in the 34 markets. Otherwise, all actions are blind. At the beginning, Ni Runfeng's home appliances to the countryside ended in failure and was the result of sloppy actions.
To understand the characteristics of the tertiary market, we must start with market research. The world-famous McKinsey & Co. Consulting found that in many small cities and towns that are not noticeable, they have hundreds of millions of consumers with certain spending power. They are important opportunities for development in the next decade, but multinational companies and large companies Some domestic companies that produce durable consumer goods also ignore this market.
In fact, the total household income of these small towns is already about 50% higher than that of the first- and second-tier cities. In the next 20 years, families with annual incomes of over 35,000 in small towns will increase by 7.6 million per year, which is higher than the urban growth rate. Faster.
In addition, the company has also overlooked a major opportunity, that is, potential wealthy families in small towns. The so-called potential means that the market has not yet been developed. Enterprises often do not pay attention to these small towns and think that these places are too poor. In fact, although the income of 20 million households in these places is relatively low, the survey found that these places have an average monthly income of 1400 yuan and reach 43 million households. They are the mainstream consumer of the market. group. Another potential affluent group, with an average monthly income of 3,800 yuan, has 35 million households. In China, households of this income level not only have the ability to purchase necessities, but also have the ability to purchase some luxury goods, and the income of this potentially wealthy group. It is close to the Chinese first-tier city's monthly income of 4,300 yuan, so this group is the company's primary target customers, and the mainstream groups in China's small towns also constitute an attractive market.
Then what is the difference between consumer psychology and consumer behavior and big cities in China's small towns? Because the former is a relatively unfamiliar market for companies, understanding their psychology and behavior is crucial to the development of corporate brand development strategies and marketing guidelines.
Among the potential affluent groups in small cities and towns, the proportion of young people is higher than that of big cities. The proportion of 18 to 34 years old accounts for 55%. One-third of them have at least received college education. Therefore, the affluent groups in small towns have unique consumer needs and characteristics. They are more rational in their consumption and will not be as exciting as the city's affluent groups. For example, the affluent groups in small towns will not be able to listen to a concert or go to a nightclub for a few hundred dollars or more, just like people in the city. The wealthy groups of small cities and towns pay more attention to the stability of their lives. With money, they first think of building a comfortable home instead of high consumption, which brings great opportunities to the home industry.
In addition, the brand awareness of potential affluent groups in small cities and towns in China is even stronger than that of first-tier consumer cities. 59% of respondents are very concerned about catching up with fashion trends, compared with 50% for first-tier cities. There are two reasons for this: First, the residents of small towns. There are few sources of information. They do not know how to choose products. Only when they believe in brand names are more reliable. Secondly, small town residents are surrounded by relatives and friends. They are afraid of being underestimated. Therefore, they value face more. These consumer psychology precisely coincides with traditional thinking. Many companies think that these remote and backward regions do not require high brand names, and they may even become a place for selling backlogs and processing products. If they think so, it is a big mistake. This is precisely what some companies have developed. The reason for the poor market performance.
In short, we must not underestimate the spending power of potentially wealthy groups in small cities and towns: for example, their air-conditioner ownership rate is as high as 67%, and the other 12% hope to purchase next year, which is far higher than the proportion of certain cities in China. Mobile phone ownership and Internet access are also higher than in cities outside Beijing, Shanghai, and Guangzhou, and the auto ownership rate is also higher than the overall level of the city. Of course, this is because of the inconvenience of information and transportation.
However, it is very difficult to enter the market of small cities and towns in China. First of all, the cost of logistics is extremely high, because the population is highly dispersed, the transportation facilities are backward, and the sales network is not perfect. The population of the potentially affluent population in small towns is 135 million, which is equivalent to the total population of 137 million in the first and second tier cities. The average income of the two families is also the opposite, but the former is scattered among the 12,000 small towns and 2000 villages in the country. Its difficulty in market development and costs are high. This is also the reason for the failure of Changhong Home Appliances to the countryside in the 1990s. Therefore, we must have sufficient understanding and preparation for the development of small town markets.
The development of small cities and towns by enterprises is an inevitable trend of China's economic development, and is also the direction in which the central government develops strategic planning for county economies. Therefore, enterprises must abandon short-term behavior and must adjust their strategic direction, organizational structure, and operating model to overcome difficulties and achieve success. .
First of all, because the rural market is highly fragmented, cultural differences are large, and local living habits and natural environments are very different. Therefore, they have very different requirements for home decoration. Not only do they differ from cities but also vary from country to village. For this situation, companies must study Their living habits, and based on their characteristics, develop products that adapt to them, for example, they need to have piling rooms to place production tools, various debris and food and the like, due to differences in the use of the environment, on the ceramic tile The wear resistance and other characteristics will have special requirements. Only by understanding them and designing their favorite products will they be welcomed by the market.
The second is to establish a sales network. The sales model of enterprises for the city certainly cannot apply to the rural market. Since the countryside has a large area, it is necessary to develop a flat sales network, and the company must set up a special leadership organization, organize the forces to research the market, formulate the rural market development strategy, and train Sales staff, this is a long-term action related to the survival of the company, any short-term behavior is doomed to failure.
The last is to reduce logistics costs. In the early stage of development in the United States, the world-famous Sears Company delivered products to villages through mail-order channels. Through this channel, mail-order manuals specially designed for farmers were sent to farmers through the post office. This is the market synergy, that is, through the post office. This channel is configured to send items. Therefore, our current approach to lowering logistics costs can only be achieved through synergies. In particular, current home appliances to the countryside have become a major trend, and companies must study how to use these existing channels and share resources to share in reducing logistics. cost. The building materials industry must really do a good job in the countryside, and reducing logistics costs is the key. This requires the concerted efforts of the industry and even the industry to open up a new model to achieve the reduction of logistics costs.
Developing a township market with great potential is a big trend and a fertile ground for brand cultivation. However, opportunities and challenges coexist, and only companies consider ceramics to the countryside as a development strategy, not a temporary measure to survive the crisis, and in the corporate organizational structure. Make changes, invest resources in research, formulate new operating models, train personnel, and organize strengths to implement them so that you can seize opportunities and be successful!
It is indeed necessary to expand the rural market, so that it has a good promotion role for bathroom brands and bathroom products. Sanitary companies should pay attention to expanding the key resources of the market.
Wing Nuts are a kind of fastener nuts . The raw material is carbon steel or stainless steel(304/316). They have two hollow wings and it mainly used with the screws .
It has a hold in the center and two projecting parts and that you can screw onto a bolt by using your fingers.
This kind of nuts made by stamping.And they can also made according to customers special request.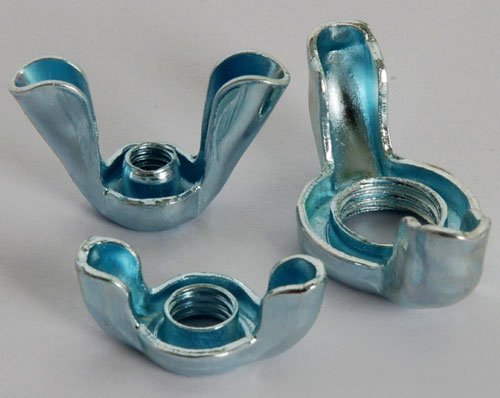 Hebei Xinyu Metal Products Co.,Ltd is a ISO9001 cerificated enterprise,which specialize in
manufacturing and exporting Furniture Nuts .Product including
Wing Nuts, Hopper Feed T Nuts , Propeller Nuts , Weld Nuts , Pallet Nuts , Locking Nuts , Rivet Nuts , Doggie Tooth Washers , Steel Stamped Parts , Hopper Feed Rivet T Nuts , Metal Stamped Parts ,
T-Nuts For Cliff-Climbing,Furniture Nuts, Tee Nut For Rock Climbing holding, Insert Tee Nut ,Middle steel Zinc Plated Stamping Wing Nut, Auto Flat Plane Weld Nuts ,
Automobile Spot Welding Nut,Customer-Made Metal Stamping Parts, Cold Heading Tee Nuts ,Stainless Steel Butterfly Nuts, Furniture Eccentric Wheel , Cam Lock Furniture Nut .
Our key strength are custom made special fasteners according to drawing or sample .We have longer and stable business relationship with well-known companies from American, Poland,Germany,French and so on.In the future ,xinyu will continue focusing on innovation special designed products,becoming your most trusted partner.

Wing Nuts
Wing Nuts,Stamped Wing Nuts,Stampings Steel Wing Nuts,Full Thread Wing Nuts,Carbon Steel Stamping Wing Nuts
Hebei Xinyu Metal Products Co.,Ltd , http://www.t-nuts.net