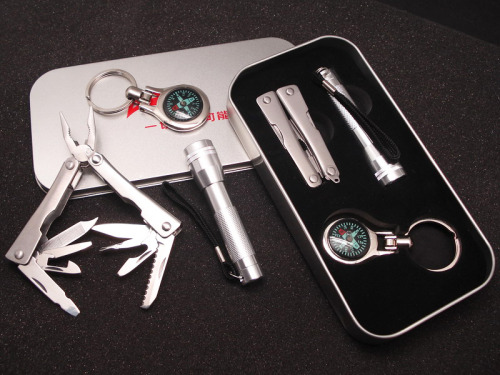 Hardware tools are indispensable in our lives. In the face of fierce market competition, hardware tool companies have seized on people's pursuit of fashion and developed more humane and fashionable style kits to enter the gift market and take the gift line. , open up a new way for the hardware tool industry development!

In an era that emphasizes innovation as the core, there is no future for industries without innovation. In today's increasingly severe product homogeneity, in the fierce market competition, the hardware tool industry faces consumer demand for humanized, fashionable and convenient hardware tools. Only innovative and more humanized and fashionable style products are created. In order to win more market share. Hardware tools to enter the gift market, the use of innovative product design, making it more functional humane, more stylish appearance. Hardware tools are not only a practical tool, but also a work of art. Their elegant appearance and excellent workmanship complement the changes in the gift market. For example, daily hardware tools are no longer sold baldly and sold alone. Instead, they wear gorgeous jackets and are delicately assembled in a space-inspired toolbox. Portable tools are smaller and smaller, but they are the same size as keychains. Screwdrivers, rulers, and small knives, etc., and these tools are free to match.

Practical features are the foundation of gift-based hardware tools. No matter how fashionable or functional the hardware tools are, the hardware tools, if not practical, lose their significance. Imagine if you are carefully selected and worthy of the hardware tools and gifts, if they are left untouched because they are not practical, then what is the gift of this gift? Set hardware tools have become a good gift for friends and family because of their high practicability and high usage. In recent years, cars have been flying into the homes of ordinary people. The demand for vehicle-carrying tools and auto maintenance tools has increased dramatically. With this demand, practical family-building tools have begun to enter the homes of ordinary people and become gifts to people. One of the preferred gifts. A wide range of functions, exquisite packaging, and a wide range of practical and practical home set combination tools are a good helper for families and businesses. There are nearly a thousand family tool set manufacturers in hardware and tools factory stores. They face the lowest prices in factories and have full service of purchasing consultants. Enterprises and individuals who purchase home set combination tools can go to hardware and tools factories. To purchase tool kits for home appliances in hardware tools factory stores, you can not only purchase high-quality and inexpensive products, but also get a lot of cash rewards after the transaction! If you are a travel lover or a friend with a travel hobby, you may have a soft spot for a practical family combination tool. Buying a set for your own use or gifting relatives and friends is a good choice. It is economical and affordable!

Hardware tools to enter the gift market is a manifestation of taking the high-end line. Since ancient times, China has a profound and profound culture of rites. The gift industry is an industry with great potential. The entry of hardware tools into the gift industry is actually an upgrade of product development to a certain stage. It is a manifestation of products taking the high-end route and is also a hardware industry. A marketing tool for tools. Judging from the hardware tools business response to enter the gift market, it is critical that gift hardware tools be quickly opened in the domestic market and establish their own brand. At present, China's hardware tool brands have a lack of brand connotation, lack of local brands and corporate brands, and lack of innovation, consistency and professionalism in brand execution. Although some hardware tool manufacturers have launched their own brands, brands lack the support of value positioning. The result is that the brand's connotation is empty and impractical, and there is also lack of corresponding support from the city and the enterprise level in the brand structure. Hardware tools companies to take the gift line, you need to be based on excellent quality and design, and establish your own brand, backed by the brand is a hardware tool companies in the gift industry to go deeper and farther protection!

The history of hardware tools to take the gift line is unprecedented, and it is a product of a specific stage of social development. Hardware tool companies only continue to open up their minds and intensify innovations, and they will meticulously craft tools such as screws, wrenches, pliers, and screwdrivers in the small hardware market, and pack them in packages that meet the needs of people's individuality, fashion, and humanity. Fully demonstrate the unique charm and innovation of hardware tools!
Rubber Hammer With Steel Handle
Rubber Mallet Hammer,Steel Handle Rubber Hammer,Steel Handle White Rubber Hammer,Rubber Hammer With Steel Handle
CHANGZHOU YIYITOOLS FACTORY , https://www.czyiyitools.com